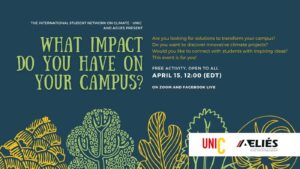 Are you looking for solutions to transform your campus?
Do you want to discover innovative climate projects?
Would you like to connect with students with inspiring ideas?
This event is for you!
Discover 4 projects created by UniC Network members to improve their campus! The activity will take the form of an interactive panel; stories and inspiring actions for all!
A Q&A and discussion will follow the presentations, where UniC members will speak more fully about the actions presented in their videos.
The free event is open to everyone and will take place online on April 15, 2021, at 12:00 (EDT).