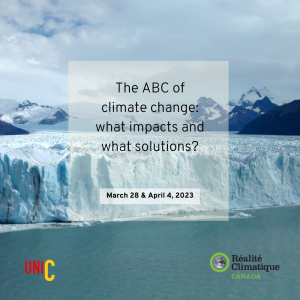 March 28, 2023 in FRENCH- 11:00 am Eastern Standard Time (EST) EDT GMT -5
This UniC Network event, in collaboration with Climate Reality Canada, is an introduction to the issue of climate change. It is intended for university students who want to learn more about the subject and/or who wish to better equip themselves to communicate it to their peers.
The basic concepts related to the climate crisis will be presented and possible solutions to face it will be explored.
This conference is hosted by Pierre Richard, Ambassador of Climate Reality Canada, who was trained by Al Gore, former vice-president of the United States. Come learn more about the science and impacts of climate change!
The registration link for this event is for UniC members only.